OPEN BRIDGE COVID-19 PROGRAMME
Start:    May 6, 2020
End:     May 29, 2020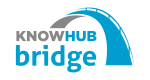 Terms and conditions 

PPT webinar  

Applications to be submitted exclusively through Santander X
OPEN BRIDGE COVID-2019: RESPONDING TO HEALTH INSTITUTIONS PARTICULAR NEEDS BEFORE CORONAVIRUS PANDEMIC
Open Bridge Covid 19 is a call organized by  Know Hub Chile; Open Beauchef, of the University of Chile and Santander X which seek to finance innovators who can provide solutions from science and technology in three thematic areas gathered by INGER and University of Chile Clinical Hospital: Personal Protection Equipment; Cleaning, Asepsis and Disinfection technology, and Information and Communication Technologies (ICTs).
Open Bridge Covid-19 is financing, with up to $20 million, three initiatives developed by researchers, research teams and/or entrepreneurs linked to Know Hub Chile partner institutions. This programme aims at transferring technologies or research results which can solve problems defined in the thematic axes, within three months (four max.)
Besides, Open Bridge Covid19 is offering the 'Santander X Award': Three technologies or research results in their early development stages, coming exclusively from undergraduate and post graduate students from Know Hub partner institutions. The winners will get $2 million each.
Applications until May 18, on this link.

OPENBRIDGE COVID-19
PROGRAMME